YOGA OF THE SOUL talk for THE INTERNATIONAL YOGA DAY
YOGA OF THE SOUL
This talk by
Ilona Selke
was given as part of a live presentation in honor of
THE INTERNATIONAL YOGA DAY
on 21 June 2021.
In this 40 minute presentation by
Ilona Selke,
you will learn some practical steps and experience a 15 minute guided meditation that will
help you understand how the world of duality leads to ascension, enlightenment, and singularity.
Dolphins, Love, and Destiny
with the subtitle of
Yoga of the Soul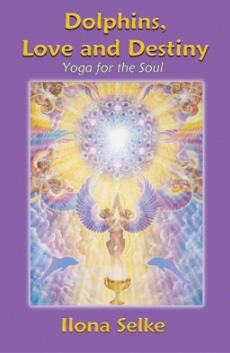 https://www.amazon.com/Dolphins-Love-Destiny-Yoga-Soul-ebook/dp/B001E2M85I/ref=sr_1_2?dchild=1&keywords=Ilona+Selke&qid=1624631768&sr=8-2
Spellbinding, very revealing, honest, and inspiring!
'Dolphins, Love and Destiny' leads the reader through encounters with wild dolphins and higher states of consciousness into a new universe of freedom, soul mates, and enlightenment.
Exploring the questions surrounding fate and free will, Ilona Selke reveals levels of freedom as we scale the ladder of the soul's evolution.
Vivid encounters with dolphins and humans, in heightened states of soul awareness, lead the reader to discover the capacity to shape-shift Time/Space and to experience deeply fulfilling and sacred relationships.
Drawing from decades of study of the inner worlds, research with dolphins, and her many international seminars on Soul Consciousness, Ilona Selke describes how creating miracles and transforming destiny can be consciously attained.
She provides the methods, that will allow the reader to change his or her life positively. Building on her first book 'Wisdom of the Dolphins,' published in four languages, Ilona Selke leads you once again to live a more conscious life.