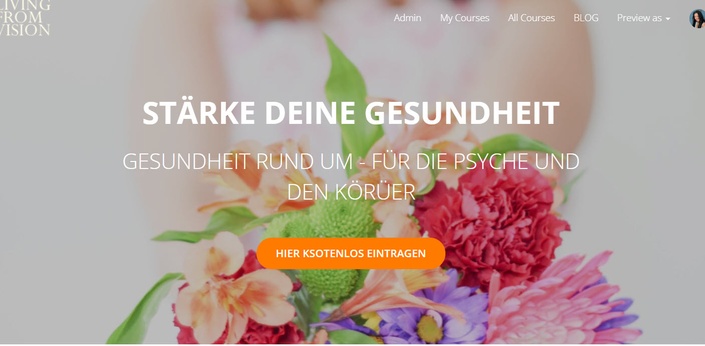 STÄRKE DEINE GESUNDHEIT - GRATIS PROGRAMM
GESUNDHEIT RUND UM - FÜR DIE PSYCHE UND DEN KÖRÜER
Deine innere und äußere Stärke kannst du bestimmen. Deine physische und psychische Gesundheit können von dir geformt, gestärkt, und beeinflusst werden.
Abwehrkräfte kann man durch Ernährung und auch durch die Gedankenkraft unterstützen.
In diesem Kurs kannst du Inspirationen zu deiner physischen, emotionalen und seelischen Gesundheit bekommen.
Ilona Selke gibt dir Zugang zu den verschiedensten Meditationen, Rezepten und Ideen anstoßen die du jederzeit in deinem Leben anwenden kannst.

Your Instructor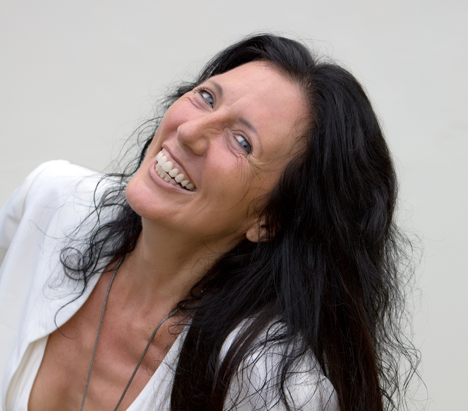 Ilona Selke is an international best-selling author, seminar leader, lecturer, and musician.
She lives with her husband of 35+ years, author Don Paris, Ph.D.hc., on an island in the Northwest Pacific of the USA in their geodesic Dome Home and in Bali, where she and her husband own a Retreat Center called Shambala Oceanside Retreat Center
Ilona Selke has inspired thousands of people to co-create reality, to discover the power multi-dimensional and spiritual mind in a practical way, and how to live and manifest their dreams.
She has appeared on TV and on the Radio, has been a favorite speaker at the Prophet's Conferences, and has been quoted in many books for the contribution of her inspirational work.
Ilona Selke has taught seminars for the last 35 years around the world both in English in German, such as in Bali, North America, Australia, India, England, France, Canada, Mexico, Singapore, Hong Kong, Japan, Germany, and Switzerland.
Her first book Wisdom of the Dolphins, available in five languages, is about the magic of dolphins and teaches how to access the holographic universe through the power of our dream-time mind.
Her second book Alin learns to use His Imagination is a children's book. It is very well loved by parents and therapists for its therapeutic value. It is available in English, German, Hindi and Russian.
Her third book about Soul mates, Free Will, Destiny, Dolphins and shifting the Time Space Matrix is called Dolphins, Love & Destiny with a subtitle Yoga of the Soul.
Her forth book titled Dream Big - The Universe Is Listening was already a best-seller in the USA, AU, CA, GB, and Germany and inspires and teaches readers to break the boundaries of time and space and to master the 3D Matrix.
The Living From Vision® course is available in English, German, French, Spanish, Czechoslovakian, and Chinese.
She has appeared on many radio shows and Tele-summits, as well as conferences and has helped thousands of people across the globe deeply transform their lives.
Course Curriculum
EINLEITUNG VON ILONA SELKE AKTUEL ZUR JETZIGEN LAGE
Available in days
days after you enroll
INTERVIEW von ILONA SELKE mit KATJA MATHES
Available in days
days after you enroll
INTERVIEW von ILONA SELKE mit LENA DREWS zu WOHLFÜHL REZEPTEN und MEDITATIONEN
Available in days
days after you enroll
Frequently Asked Questions
Warum gibt es diesen Kurs kostenlos?
Kostenlos, damit diesen Kurs möglichst viele Menschen machen können.. In der heutigen Zeit wird es immer wichtiger dass wir die Kraft in uns selber finden. Je mehr Menschen in sich gestärkt ruhen, desto stabiler ist unser Feld. Helfe dir selber und helfe anderen Menschen in dem du diesen kostenlosen Kurs weiter empfiehlt.
Wie lange habe ich Zugang zu diesen Übungen?
Wie alle Kurse hier bei Ilona Selke wirst du für immer den Zugang haben nachdem du dich eingeschrieben hast.
Kann ich die Fantasiereisen und Meditationen die in diesem Kurs zu finden sind einfach weiterleiten?
Da wir diesem Kurs soundso kostenlos weiter empfehlen, bitten wir dich das du diesen Kurs als Ganzes weiter ein leitest mit dem obigen Link. Wir danken dir für deine Mithilfe.
Das Leben ist da damit alle Elemente des Lebens sich entfalten. Esb besteht aus Lernen, Herausforderungen, die wir dann meistern, und Herausforderungen, die wir bestehen.
Wir sind zum Beispiel die Abkömmlinge von denen, die alle vergangenen Katastrophen, die das Universum der Erde gebracht hat überlebt haben.

Immer wieder stehen neue Herausforderungen vor der Haustür, und immer wieder lernen wir neue Weisen um uns zu entfalten, die Lernlektionen zu lernen, größer zu werden und heller zu schwingen.

Möge dieser Onlinekurs dir dabei helfen heller zu schwingen, dir klarer zu werden was du wirklich möchtest, und dieses auch in deine Welt zu bringen.